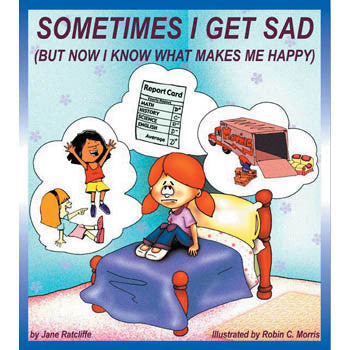 Sometimes I Get Sad But Now I Know What Makes Me Happy Book
Help children suffering from depression have a model for how they can learn to cope

Includes engaging, full color illustrations

Ages: 5-10
The incidence of childhood depression has increased dramatically in the last 15 years and it is affecting even younger children than before. This is the story of Sara, who has good reason to be upset. Sara's parents have moved to a new neighborhood, and she has trouble adjusting to her new school. Her grandmother has become ill and moved into her home. Now, her mother seems to be preoccupied much of the time and is giving Sara less attention. Like many children, Sara just can't seem to cope with all of these problems at once.
Fortunately, Sara gets the help that she needs. With the aid of a counselor and by meeting with a group of children who have had similar problems, Sara learns how to cope. Now, when she gets sad, she knows how to make herself happy again. 62 pages.
This book is also part of the Sometimes I...6-Book Series.