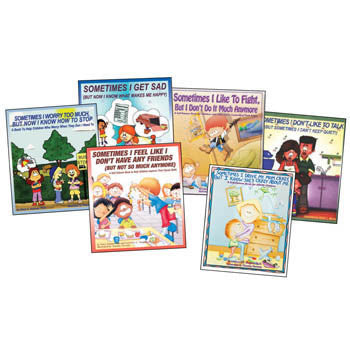 BEST SELLING: Sometimes I.... Book Series (6 books)
Designed to give children a role model for positive and realistic change
Each book covers a specific common childhood problem
Features fun, full color illustrations and simple language
Ages: 5-10
A wonderful 6 book series that addresses different childhood problems.
Set includes one each of the following titles:
Sometimes I Worry Too Much But Now I Know How to Stop
The book tells the story of Anna, whose father calls her the "What If Kid" because she worries about everything, big or small. Fortunately, Anna is helped by a psychologist who teaches her simple and fun cognitive and behavioral techniques.
Sometimes I Get Sad But Now I Know What Makes Me Happy
The incidence of childhood depression has increased dramatically in the last 15 years and it is affecting even younger children than before. This is the story of Sara, who has good reason to be upset.
Sometimes I Like to Fight, But I Don't Do It Much Anymore
Douglas is a boy who has always liked to fight, but as he gets older his fighting gets him into more trouble. Fortunately, Douglas' school counselor intervenes, and after a variety of changes at home and in school, his behavior gets much better.

Sometimes I Don't Like to Talk But Sometimes I Can't Keep Quiet
This is an engaging story about Emmy, who is quiet as a mouse in school. In fact, the other children call her little mouse, a name that only makes her feel worse. Emmy thinks that everyone is mad at her for being so quiet, until a counselor helps her parents and teacher understand that Emmy needs gentle encouragement, not sarcasm or teasing.
Sometimes I Feel Like I Don't Have Any Friends But Not So Much Anymore
In this book, Mark finds that his inability to make friends has made him isolated and lonely. It is not so much that he doesn't have the desire to make friends, but rather that he doesn't have the skills.
Sometimes I Drive My Mom Crazy, But I Know She's Crazy About Me
This book tells the heart-warming and amazing story of a boy who has developed a sense of self-worth by learning to deal with his problems through the help of the adults who care for and about him.