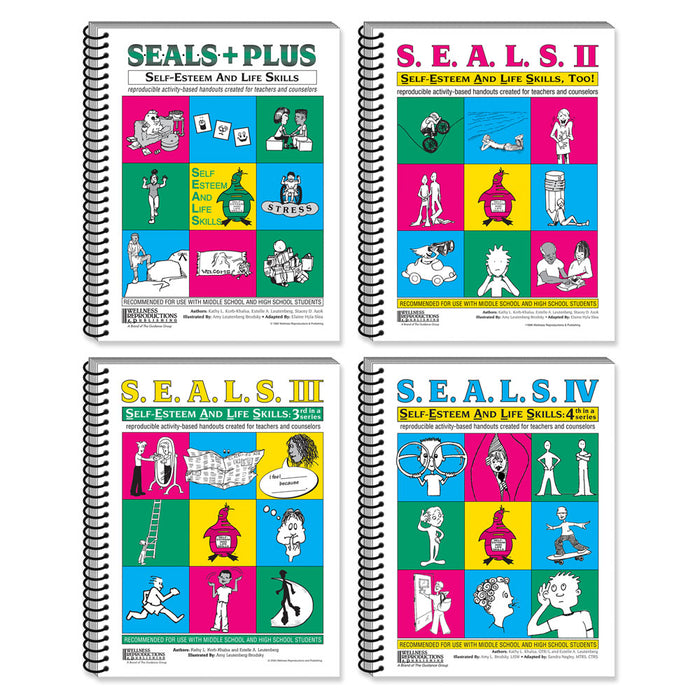 Teach students self-esteem using interactive games and activities

Each book contains 75-80 handouts, role-plays, a glossary, and 

reproducible activities.

Ages 12-18
These helpful workbooks are filled with hundreds of reproducible activity handouts with age-appropriate language, graphics and illustrations. Each handout has an instruction sheet outlining the purpose of the activity and how to use it with teens. No two activities are alike even if the topic appears in more than one book! Books include reproducible activities. Spiral bound. 176 pages.
Set includes one each of the following books:
SEALS I
Topics: Anger Management, Assertion, Awareness, Communication Skills, Coping Skills, Emotion Identification, Goal Setting, Health Awareness, Money Management, Problem Solving, Risk Taking, Self-Esteem, Stress Management, Support Systems, Time Management, and Values Clarification
SEALS II
Topics: Body Image, Communication, Conflict Resolution, Coping Skills, Creative Expression, Humor, Job Readiness, Leisure Skills, Nurturance, Relapse Prevention, Relationships, Responsibility, Roles, Self-Awareness, Self-Esteem, Sexual Health, Social Skills, Stress Management, Suicide Issues, and Values
SEALS III
Topics: Coping Skills, Expressive Arts, Fear, Goal Setting, Grief, Humor, Independent Living/Transition Skills, Interpersonal Skills, Leisure, Making, Changes, Positive Outlook, Recovery, Relationships, Self-Awareness, Self-Esteem, Spirituality, Stress Management, and Supports
SEALS IV
Topics: Assertiveness, Communication, Coping & Recovery Skills, Emotions
Goals, Grief/Loss, Leisure, Money Management, Physical Health, Positive, Thinking, Relationships, Responsibility, Self-Esteem, Social Skills, Spirituality, Stress Management, Substance Abuse Recovery, andTime Management