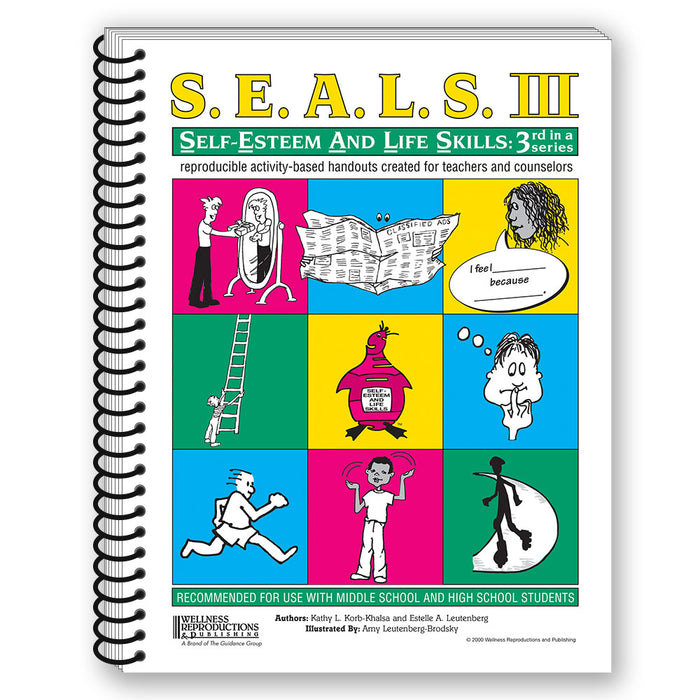 S.E.A.L.S. III (Self Esteem and Life Skills) Book
Help build self-esteem in teens!

Can be used in conjunction with the

S.E.A.L.S. III Cards

Includes

reproducible activities

Ages: 12-18
Written by Kathy L. Korb-Khalsa,OTR/L and Estelle A. Leutenberg. This workbook is filled with reproducible activity-based handouts with age-appropriate language, graphics, and illustrations intended to help middle and high school students achieve increased self-esteem and learn important life lessons. Each handout has an instructions sheet outlining the purpose and use. No two activities are alike. 88 pages, spiral-bound, includes reproducible activities.

Topics:
Coping Skills
Expressive Arts
Fear
Goal Setting
Grief
Humor
Independent Living/Transition Skills
Interpersonal Skills
Leisure
Making Changes
Positive Outlook
Recovery
Relationships
Self-Awareness
Self-Esteem
Spirituality
Stress Management
Supports
This product is part of the S.E.A.L.S Book and Cards Set and S.E.A.L.S. III Book and Cards Set.