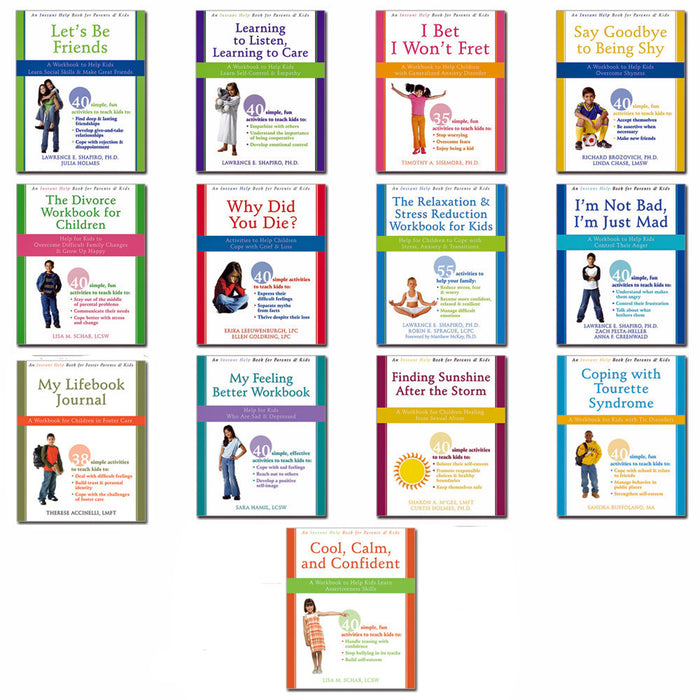 Instant Help Books for Children Set of 12
Comprehensive library of advice and activities, written by experienced clinicians
Each workbook contains over 40 activities
Can be used in either individual or group sessions
Ages: 6-12
This set of practical workbooks was written by experienced clinicians and leading experts in the field of child counseling. Each book contains 40 to 50 activities designed to teach the critical cognitive and behavioral skills children need to overcome their problems. The activities are effective whether used in group or individual sessions and can also be sent home to be used between sessions.
Set includes one each of the following 12 books:
I'm Not Bad, I'm Just Mad Workbook -  Teach children to express anger in non-destructive ways, use problem-solving skills to head off anger, and cope with feelings of frustration.
Let's Be Friends Workbook - Teach children how to form strong and lasting friendships. As they work through the fun exercises in this book, kids develop the confidence and skills to reach out to others, communicate effectively, and resolve conflicts with compromise.
Learning To Listen, Learning To Care Workbook -Teach children why it is important to follow rules and behave considerately toward others. This cultivates empathy, which contributes not just to good behavior, but to academic and social success.
I Bet...I Won't Fret Workbook - Help children with Generalized Anxiety Disorder learn to manage and overcome their anxiety. Teach children how to change anxiety-inducing self-talk and communicate feelings.

Say Goodbye To Being Shy Workbook -Great tool for children who suffer from occasional shyness or those whose shyness overshadows much of their daily life.

My Feeling Better Workbook - Empower children with the skills necessary to overcome sadness and low self-esteem and live an active, joyful life.

Finding Sunshine After The Storm Workbook -Teach children to deal with painful feelings in positive ways, reach out for support, and feel proud of themselves.
The Divorce Workbook for Children -Help children address and cope with issues related to parental divorce.

Why Did You Die? Workbook - This workbook offers tools that you can use to help a grieving child in your life deal with feelings, thoughts, myths, and questions.
Coping With Tourette Syndrome Workbook -Help kids cope with school, relate better with friends, manage their behavior in public places, and strengthen their self-esteem.
The Relaxation Stress Reduction Workbook -Help children manage their anxiety through relaxation and stress reduction strategies.

Cool, Calm, and Confident Workbook -Help children learn the difference between passive, aggressive, and assertive behavior.