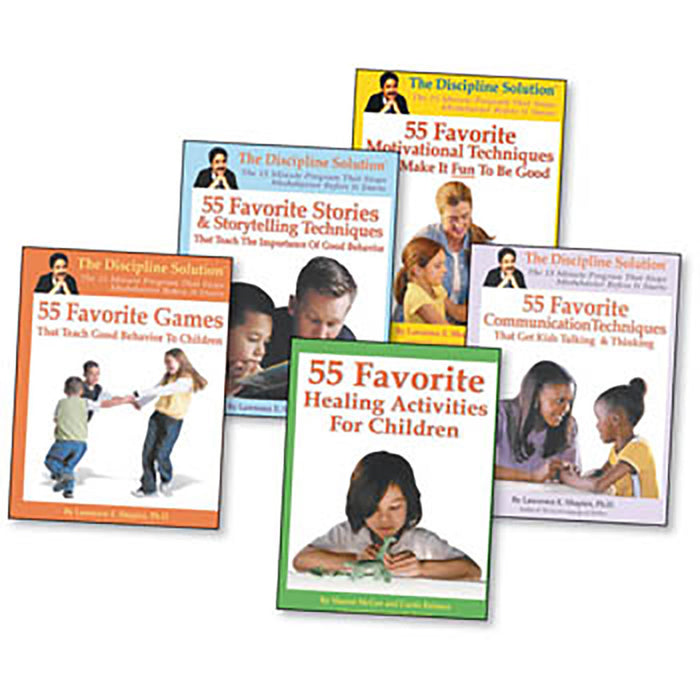 55 Favorite Activity Books 5 books
Help children with emotional and behavioral development

Teach children how to behave properly, communicate with others, and heal from trauma and loss

Designed for use by counselors, teachers, and parents

Ages: 4-10
These unique books are full of tips, techniques, and activities that teach children how to behave properly, communicate with others, and heal from trauma and loss. The books include games, activities, charts and contracts, card games, and stories designed for use by counselors, teachers, and parents. 
Set includes one each of the following game books:
55 Favorite Communication Techniques
Expressing concerns, conflicts, and feelings is critical to a child's emotional and behavioral development. This book is divided into four sections describing proven techniques that help children "open up" about their feeling
55 Favorite Games Activity Book
The games in this book are a great way to help children develop their emotional, social and behavioral skills through their natural language of play. Fun games teach children to respect rules, be more cooperative with adults, and become more caring people. 
55 Favorite Healing Activities
Children who have suffered trauma and loss need compassion, understanding, and counselors that can help them cope with ongoing stress while they heal from past hurts. 
55 Favorite Motivational Techniques
The tough job of motivating children to change their behavior just got easier.This book explores dozens of ways to motivate change in even the most resistant children.The ready-to-use positive behavioral programs in this book are based on tried and true psychological principles - and they're fun! 
55 Favorite Stories and Storytelling Techniques
Stories can have a powerful effect on changing the way children think and behave. This first-of-its-kind book contains 40 "positive discipline stories" that cover such topics as the importance of following rules, controlling anger, dealing with teasing, and much more.