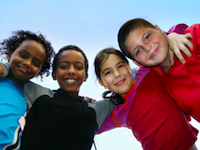 Focus on EQ: What is Social Emotional Learning?
Focus on EQ: What is Social Emotional Learning? 
As we start the new school year, it's worth asking ourselves, "what are the most important skills we want our students to gain? What do we hope they will be able to do by the time they graduate? What do we wish for them as adults? Are we teaching them these skills?" Back in 1997, Maurice Elias, a pioneer in the burgeoning field of
social emotional learning (SEL
), stressed that schools play a critical role in preparing students to be knowledgeable, responsible, and caring. Beyond these words, he added, lay an educational challenge. In the blog series, Focus on EQ, we'll be taking up this challenge and sharing our thinking and feeling about emotional intelligence and its educational application, social emotional learning, or SEL.  I hope you will contribute your thoughts, feelings, and questions in the comments section below.
What is SEL?  
a foundational set of skills that are learnable and that help kids develop self-awareness, healthy relationships, and decision making ability, enabling them to strive for and reach their goals.
an intentional process for helping students develop these competencies needed for life effectiveness.
Over the past 20 years, we've learned that effective SEL programs:
Are integrated into the school climate and culture, with a shared mission and vocabulary, and extend to all staff, parents, and community
Require classroom environments that are engaging, where educators ask students meaningful questions and encourage them to take ownership of their learning and behavior
Include direct instruction of competencies in a way that's developmentally sound, systematic, and use valid measures
A question I'm often asked: What's the difference between EQ and SEL? 
Amy Franklin, an EQ Educator in Taos, NM shared recently a burger metaphor, to help explain the difference; she sees EQ as the "bun" and SEL skills as the "burger" within. EQ is the effective blending of thinking and feeling to make optimal decisions---which is key to having a successful relationship with yourself and others (Six Seconds.)
So, if our thinking and emotions form the bun, what are the SEL competencies that go inside? 
Some SEL programs target specific concepts like
Empathy, Emotional Literacy, Conflict Resolution, or Bully Prevention
.   Other approaches involve teaching and having students practice specific competencies that help them
Know, Choose, and Give
themselves (6seconds.org). Most SEL educators help students learn skills to understand and navigate emotions instead of getting swamped by them.  In most SEL programs, students are helped to
make better choices and persevere
in the face of obstacles.  A more recent focus for many SEL programs is on
the  importance of teachers and parents developing their own EQ competencies
, both to reduce their own levels of stress and to be able to effectively model EQ for their students.
What does SEL in action look like? 
While a variety of models exist for integrating SEL into the school day, many educators find an advisory period or class meeting is a good place to start. Here's an example of an elementary class meeting, which could easily be adapted for middle or high school students. Students start the day by gathering in a circle either in chairs or on the floor of their classroom.  
Check In:
Students look each other in the eye, shake hands, and using an appropriate tone of voice, respectfully greet each other by name, often using different languages. Passing a "talking stick," they may first do a "check-in"—saying a number or word to describe how they're feeling. Other students listen with curiosity and respect. The teacher has previously introduced the activity called Newsy News. In this activity, students decide to share one of three types of "News" and receive supportive responses, questions, and other students making connections.
Newsy News:
  The routine events of the day, such as a successful achievement on the ball field, a concert approaching, or a relative coming for a weekend visit.
Serious News
: A family member taken ill, a pet that has died, or a move that is imminent.  The teacher may also take this opportunity to share thoughts and feelings on community events, such as the devastating flooding in many states or the 10th anniversary of 9/11.
Personal News:
Deemed too private to share, but something students want their classmates and teacher to know is deeply affecting them.
Social Problem Solving:
The teacher then moves to a discussion of recurrent class issues. For example, on this particular day, the teacher is concerned with the number of conflicts that routinely arise at recess. Students and teacher discuss the behavior patterns, evaluate how the problem makes them feel, discuss how to consider the consequences of their choices, and then brainstorm solutions. They reflect on the benefits of a peaceful solution and commit to an action.
Transition to Academics:
Finally, the teacher attends to the day ahead. She explains that students will be involved in testing, asks for student reactions, and the class practices ways to calm down and reduce apprehension.
Appreciations:
Students then offer appreciations to each other for their contribution to the class meeting and move to their first academic content area.
What competencies are involved in this brief class meeting exercise?
What do you think are the most important skills students are learning and practicing here?
What do you envision are the benefits?
At the Heart of Learning
Many educators now believe that SEL, the set of skills and attitudes needed for students to know themselves, make better choices, and care for others and for their world, belong at the heart of learning.
Do you agree?
With so many conflicting demands, should educators and schools make time for SEL? And if so, where, when, and how? Does time for SEL "take time" away from academics? Is that a concern?
Why does it matter? 
According to Josh Freedman of Six Seconds, a global emotional intelligence network, the research is clear:
Social and emotional factors are the drivers or limiters of learning.  When children (and the adults who support them) are engaged, curious, safe, and thriving, then they achieve. 
Researchers have been able to show powerful benefits of SEL across many different programs and approaches. Through a meta-analysis of 213 programs and over 270,000 students, researchers found that SEL improves students' positive attitudes and greatly reduces problematic and risky behavior. They found that SEL is associated with significant improvements in students' academic performance (11% on standardized tests) and engagement with school (CASEL.org).
Three tips for using SEL in your classroom or school this month:  
1) "Read all about it"  
To be effective, commit to learning more about EQ and SEL. Develop your expertise so you can become an "EQ" champion in your classroom or school.  Talk about it with your students, parents, and colleagues and find out what skills they think are important.  Explore the many resources available on websites such as Edutopia, CASEL, and Six Seconds.
Engage with others on this blog.
2) "Everyone on the same page" 
Develop a shared SEL vocabulary in your classroom or program. Use concepts such Check-ins, Empathy,
Decoding Emotions
, or Optimism on a daily basis. Integrate them into your lessons and talks with students. With students, create models for communication, problem solving and conflict resolution and post them, using SEL-related phrases, such as "no killer statements," "use I-messages" or "I need an ally."  Seek out curricula that support your interests, your particular "burger" filling. Involve parents, other teachers, counselors, and administrators in your SEL program, ask them to work with you, and see them as critical partners.
3) "Create an SEL Learning Community" 
Use class meetings or advisory groups to talk about common student issues from an SEL framework and with shared vocabulary. Ask for student input on their main concerns. Talk about and roleplay ways learning SEL skills may help with:
     doing homework
     feeling motivated
     overcoming obstacles and not giving up
     making and keeping friends
     solving conflicts
     problem solving
     relieving stress
Take Action: 
By committing to experimenting with SEL in your classroom, you'll be helping your students develop lifelong skills to improve relationships, make better choices, and reach their goals. What makes sense for your classroom, your program, your school? What will you commit to? Do you have a good SEL experience to share? Please contact me with ideas for this column, questions about SEL, and stories of your classroom and school.  Join me for a free webinar:
Introduction to SEL