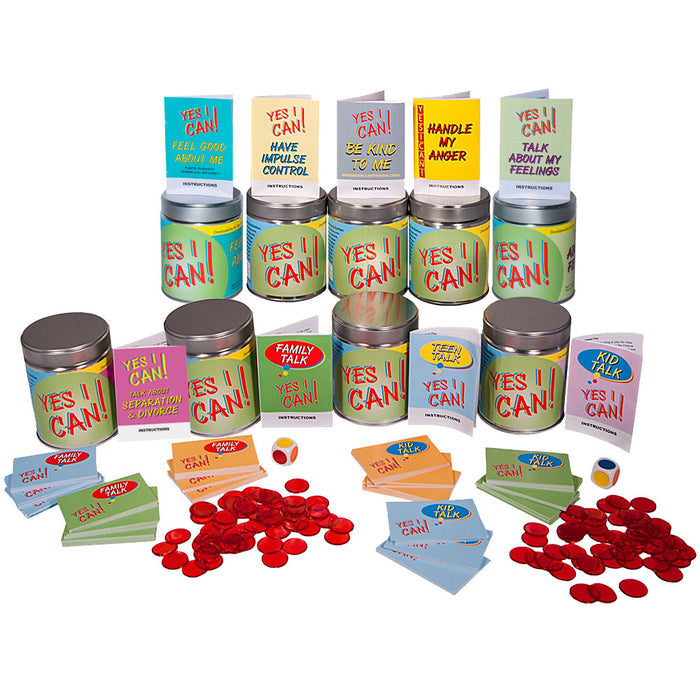 All 9 of the Yes I Can! activities at a great price

Great conversation starters, and a fun way to enhance communication skills

Topics include anger management, impulse control, kindness, and more

Suitable for families, classrooms, counselors, & therapists

Developed by a licensed psychologist
Developed by licensed psychologist, Gary Yorke, Ph.D., the Yes I Can! games and activities are designed to spark discussion. Many of the games can be played in either a competitive or noncompetitive format. Each game includes instructions with fun activities and alternative uses for the cards.
Includes one each of the following:
Yes I Can! Be Kind to Me
Help players learn the power of positive thinking! Enhance players' self-esteem and develop a balanced self-concept. For 2 to 6 players, age 10 and up.
Yes I Can! Have Impulse Control
Teach children how to control their impulses by enhancing self-awareness. For 2 to 4 players, ages 6 to 14.
Yes I Can! Handle My Anger
Teach players to manage their anger by identifying triggers, behaviors, and thoughts. For 2-6 players, age 6 and up.
Yes I Can! Family Talk
Help families learn how to communicate with each other and strengthen their relationships. Ages 6 to adult, 2 to 8 players.
Yes I Can! Kid Talk
Teach children how to connect with peers and develop relationships. Age 6 to adult, 2 to 6 players.
Yes I Can! Teen Talk
Teach teens how to talk to peers and develop relationships. Ages 13 and up, 2 to 6 players.
Yes I Can! Feel Good About Me
A non-competitive therapeutic game designed to help increase self-esteem. This activity may be played with 2-6 players and is designed to be played by adolescents and adults.
Yes I Can! Talk About My Feelings
Designed to facilitate conversation, insight, expressive skills, and increase an individual's feeling word vocabulary.  For ages 5 and up, 2-6 players.
Yes I Can! Talk About Separation & Divorce
Has been designed to help children cope with separation & divorce. This game facilitates discussion, provides insight, and suggests coping strategies. For ages 6-14, 2-4 players.