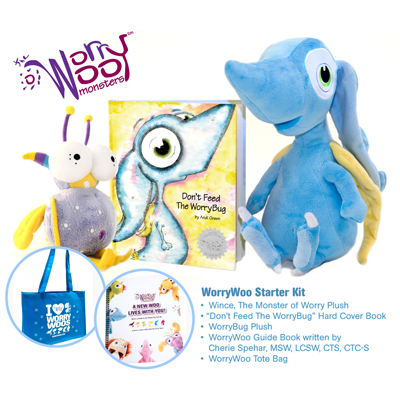 WorryWoo Starter Kit
Product Number :
000J52500K
WorryWoo Starter Kit
Embrace your inner "woo"!
Wince is the Monster of Worry, the biggest worrier you'll ever meet! And the more he worries the bigger his nemesis, the WorryBug, becomes. In the book, Don't Feed The WorryBug, Wince goes on a whimsical adventure in which he discovers the secret to keeping his worries from growing out of control. Using unique drawings and clever rhymes, the story offers an insightful message and encourages emotional wellness. The included guidebook offers ideas for integrating the Starter Kit into home, classroom, and counseling activities.
Includes Don't Feed The WorryBug book (by Andi Green, hardcover, 76 pages, 8" × 6½"); A New Woo Lives With You guidebook (by Cherie L. Spehar, MSW, LCSW, CTS, CTC-S, RPT-S, spiral bound, 15 pages plus 7 coloring pages, 8½" × 11"); Wince plush toy (11" tall); WorryBug plush toy (8" tall); all in a tote bag