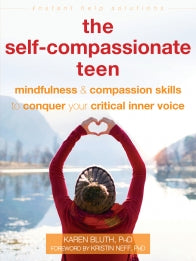 The Self-Compassionate Teen
Are you kind to everyone but yourself? This book will help you find the strength and courage to move beyond self-criticism and just be you.
Do you ever feel like you're just not good enough? Do you often compare yourself to friends, classmates, or even celebrities and models? As a teen facing intense physical, mental, and social changes, it's easy to get caught up in self-judgment and criticism. The problem is, over time, these negative thoughts can build up, cloud your world, and lead to stress, anxiety, and even depression. So, how can you start being nicer to yourself?
Written by psychologist Karen Bluth and based on practices adapted from Kristin Neff and Christopher Germer's Mindful Self-Compassion program, this book offers fun, everyday exercises grounded in mindfulness and self-compassion to help you overcome crippling self-criticism and respond to feelings of self-doubt with greater kindness and self-care. You'll find real tools to help you work through difficult thoughts and feelings, navigate life's emotional ups and downs, and be as accepting of yourself as you are of others.
Learning to believe in yourself means being aware of the self-critical voice inside you, and then discovering how to not take it so seriously. With this book, you'll learn how self-compassion can actually be a much greater motivator for reaching your goals than self-criticism. In fact, being kind to yourself when you're struggling can actually reduce stress and make you more resilient!
So, stop beating yourself up, and start reading this book. You have an important friend to make—you!