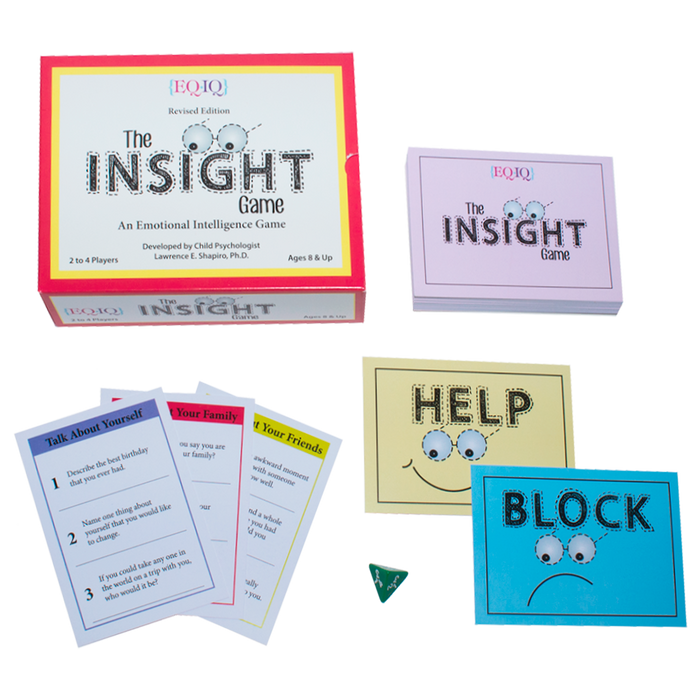 Help children talk about their thoughts and feelings
Encourage children to discuss their families, friends, and themselves
For 2-4 players
Ages: 8 and up
Developed by Lawrence E. Shapiro, Ph.D. Emotional intelligence is made up of many specific social and emotional skills, and insight is one of the most important skills. A skill that comes easily to some and not so easily to others, insight begins with children's willingness to talk about their thoughts and feelings - exactly what this card game is designed to encourage. As they draw cards that ask them to talk about their families, their friends, and themselves, players learn to connect past and present events and to understand why people sometimes do things that may not be in their best interests. The first person to put out a set of the three different question cards (i.e., Talk About Your Friends, Talk About Yourself, and Talk About Your Family) or a combination of three question cards and a "wild" card wins the game. 
Contents:
13 Talk About Your Family Cards
13 Talk About Your Friends Cards
14 Talk About Yourself Cards
5 Help Cards
5 Block Cards
1 Four-sided Die
Instructions
This product is also part of the Best Behavior Card Set.