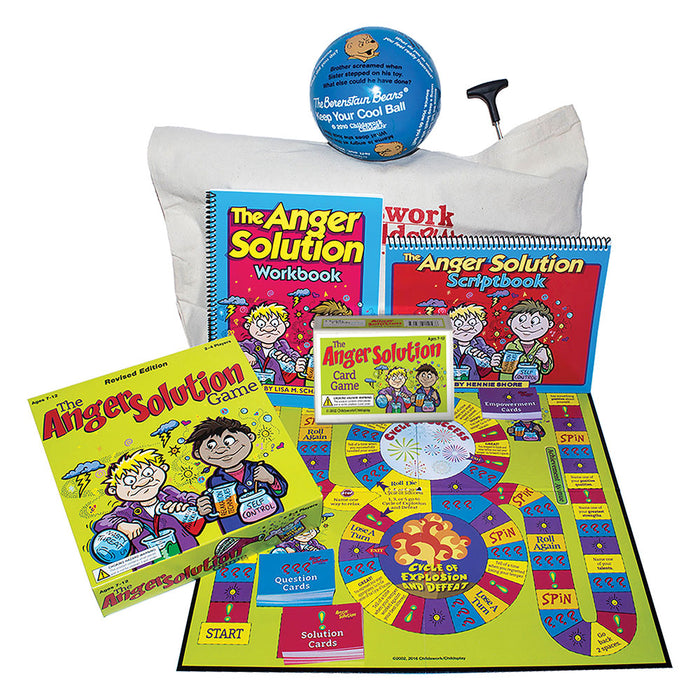 The Anger Solution Collection
Practice anger control with children using a variety of methods
Includes a board game, card game, workbook, script book, and therapy ball
Ages: 7-12
Children benefit most from training in anger control when they learn techniques from a variety of methods. The complete Anger Solution Collection has everything you need to help kids learn to make positive choices to manage their anger safely. Whether playing the game, engaging in the activities from the workbook, having fun with the ball, or joining in with the card game, this collection will help kids get control of their anger before it takes control of them.
Collection includes one of each of the following:
The Anger Solution Board Game - The Anger Solution Game helps children learn to control their behavior responses to anger. As players make their way around the board, they are faced with a series of decisions and learn to choose the success route over the victim cycle.
The Anger Solution Card Game - This game was designed to teach children constructive and effective ways to resolve their anger. The cards allow them the opportunity to choose alternatives that can turn anger-inciting situations into more positive encounters. 
The Anger Solution Workbook - This workbook helps children learn how to work out their problems, lower their level of anger, and build confidence in their ability to manage their anger safely. It is packed with fun-filled activities that engage even the most resistant child.
The Anger Solution Script book - This original technique helps children learn eight different anger control techniques as they read entertaining and informative scripts. The scripts deal with understanding anger, self-calming techniques, impulse control, anger awareness, and more.
Berenstain Bears Keep Your Cool Ball
 - Elementary school children will learn fun ways to deal with their anger. 
8 inch vinyl ball comes deflated

Air Pump (to inflate the ball)
Tote Bag