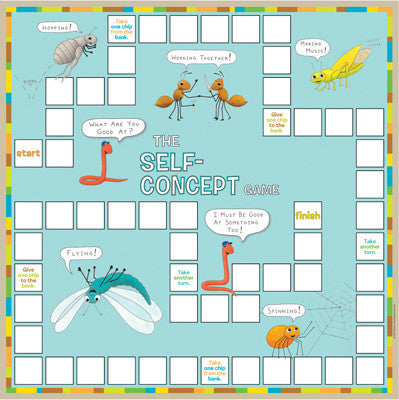 The Self-Concept Game*
by Berthold Berg, Ph.D.  
 
The Self-Concept Game is an excellent tool to improve self-esteem. This appealing board game is an great way to engage—and treat—children who are too old for puppets and toys, but too young to express themselves readily in therapy. It improves self-esteem by giving children a clearer, more realistic picture of themselves in five areas: Scholastic Competence; Social Acceptance; Physical Appearance; Athletic Competence; and Behavioral Competence. It helps them discover their strengths and teaches them strategies for maintaining and enhancing self-esteem.
To focus discussion, you can choose appropriate game cards based on the child's responses to the Self-Concept Inventory and the Cognitive Orientation Inventory, both included in the game manual. Generally played by a therapist and one or more children, the game can also be used by parents or used in the classroom. Ages 8 and up.
Also available:
The Self-Concept Workbook
by Berthold Berg, Ph.D.
 
This workbook supplements the Self-Concept Game. It reinforces self-esteem by encouraging a realistic evaluation of strengths and weaknesses. The child learns to apply nine different kinds of self-talk: Accepting Compliments, Making Realistic Comparisons, Not Overreacting to Failure, Minimizing Criticism, Recognizing Strengths, Expecting What's Reasonable, Expecting Success, Praising Self, and Taking Credit.
Self-Concept Thinking Skills Puppet DVD
by Berthold Berg, Ph.D.
  
This most engaging component of Berg's self-concept program clearly demonstrates the nine cognitive-behavioral principles taught by the game, workbook, and story cards. The DVD presents two vignettes for each skill and two scenes (positive and negative models) for each vignette. An accompanying manual provides scripts, so you can easily present the skits yourself if you prefer. Best used in tandem with at least one of the other self-concept tools by Berg, this is an ideal introduction to game playing or storytelling sessions, especially for younger children.
 
Self-Concept StoryCards
Here is the answer for client-centered therapists who want to add some structure to counseling sessions. Children's responses to the illustrations and your story prompts reveal needs and conflicts. You can then help youngsters revise their stories to express more adaptive values. This process fosters a transfer of learning to the child's own experience. Complements Berg's other self-concept materials, yet stands on its own as an outstanding therapeutic tool.