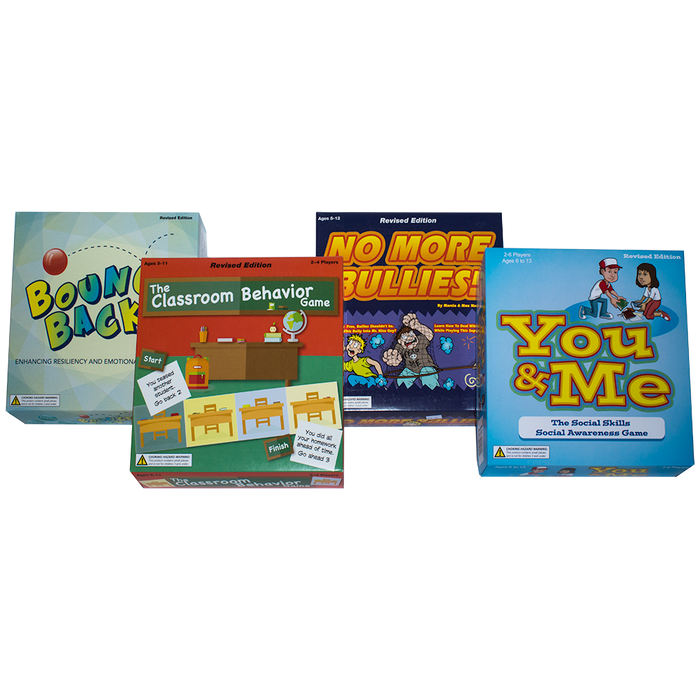 Great collection for school counselors, psychologist, or special education teachers

Game topics include: dealing with stress, good behavior, bullying, social skills, and more

Includes 4 best selling board games!

Ages 4-12
If you work in a school as a counselor, school psychologist, or special education teacher, then this is the game collection for you. These four games cover the most common problems encountered in a school situation and are designed for play in individual or group counseling or in the classroom.
Collection includes one each of the following 4 games:
Bounce Back Game
When children possess specific resiliency skills such as insight, a sense of humor, and persistence, they can cope with psychological problems that might otherwise have lifelong effects. This game challenges players to find answers to problems and reduce their stress level. Children's Version. 
The Classroom Behavior Game
TThe Classroom Behavior Game teaches 12 positive behaviors including Raising Your Hand, Taking Turns, Ignoring Inappropriate Behavior of Others, Having a Positive Attitude, and Listening. Designed for children with behavior problems and who have difficulty following rules. 
No More Bullies Game
layers will learn how to avoid being picked on, what to say to a bully, and who to talk to about the problem. Bullies will learn why they act the way they do and how they can handle their anger and frustrations without taking it out on someone else. This is a cooperative game in which all players must work together to get their possessions back from the bully, who has taken them. Players must also turn the "mean" bully on the board into a "reformed" bully - Mr. Nice Guy! - by covering him with puzzle pieces.
You & Me Game
A cooperative board game that teaches day-to-day social skills and social awareness. Designed to help children become socially aware of the world they live in, as they build the social skills they need in everyday life: helping, sharing, being polite, cooperating, understanding different points of views, listening, following rules, acting assertively, and being a friend. Players work as a team, there are no individual winners.