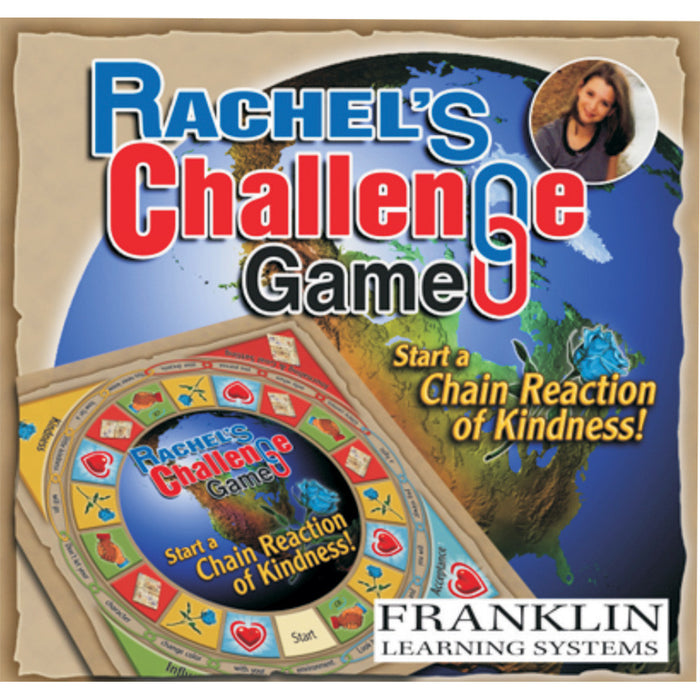 Rachel's Challenge Game: Start A Chain Reaction of Kindness
 Help students and adults combat bullying and reduce feelings of isolation and despair

Can be used in conjunction with other Rachel's Challenge activities

For 2-5 players

Grades: 3-12
Rachel's Challenge is a series of student empowering programs and strategies that help students and adults to combat bullying and reduce feelings of isolation and despair by creating a culture of kindness and compassion. The programs are based on the writings and life of 17 year-old Rachel Scott who was the first student killed at Columbine High School in 1999.

The Rachel's Challenge Organization conducts in-school programs including presentations and coordinated activities. This Rachel's Challenge game is an outgrowth of the success of the Rachel's Challenge programs. It can be used in conjunction with other Rachel's Challenge activities, as a follow up, or independently.

The game board prominently displays the four cornerstones of Rachel's philosophy: kindness, acceptance, positive influence, and journaling and goal setting. Players join their links to create a chain of kindness around the game board. Card questions encourage players to discuss their experiences, thoughts, and feelings about important character issues.