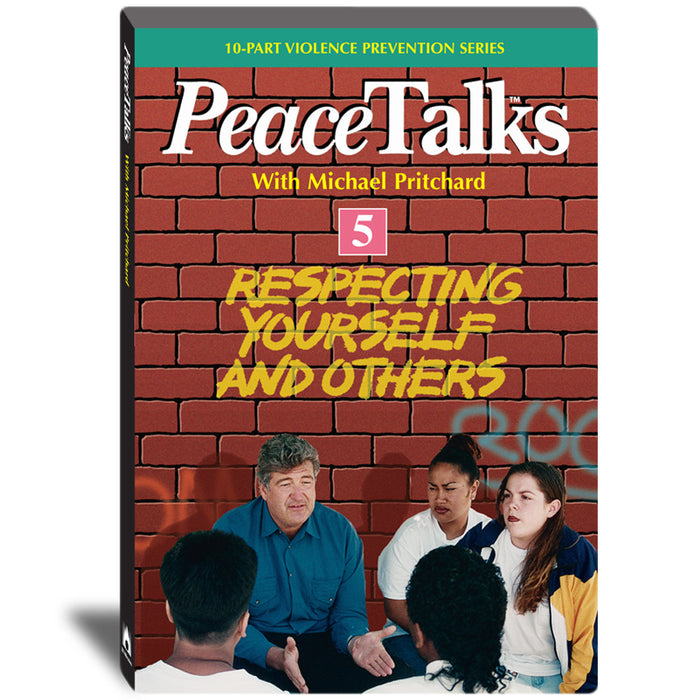 PeaceTalks Respecting Yourself and Others DVD
Help teens build a positive self-image, confidence, and composure in the face of disrespect

Explains how innocent fun can turn into hurtful attacks

Duration 28 minutes

Leader's Guide available online
Whether you call it dissing, busting, capping or snapping, showing disrespect is probably the most common source of conflict and violence in the teen years. Respecting Yourself and Others examines both the humor and pain inherent in the put-downs and status games that typify so many teenage relationships, and reveals how they can easily move from innocent fun to hurtful attacks - particularly when used against different social, racial, or ethnic groups. Discussion centers on how to handle perceived disrespect in potentially violent situations, and how a positive self-image can provide the confidence and composure to ignore insults and walk away from threatened violence.
PeaceTalks is a research-based and award-winning program which incorporates multiple approaches shown to be effective in reducing aggression and violence. Hosted by Michael Pritchard, America's most respected teen counselor. Pritchard is a humorist, actor, youth activist, former probation officer, and PBS host. Educate kids about violence in our society, the risks they face every day, and the positive choices they can make to stay safe. PeaceTalks Prevents violence by teaching kids how to avoid dangerous situations, handle their own emotions, and use conflict resolution skills.
Check out some of our other PeaceTalks DVDs!