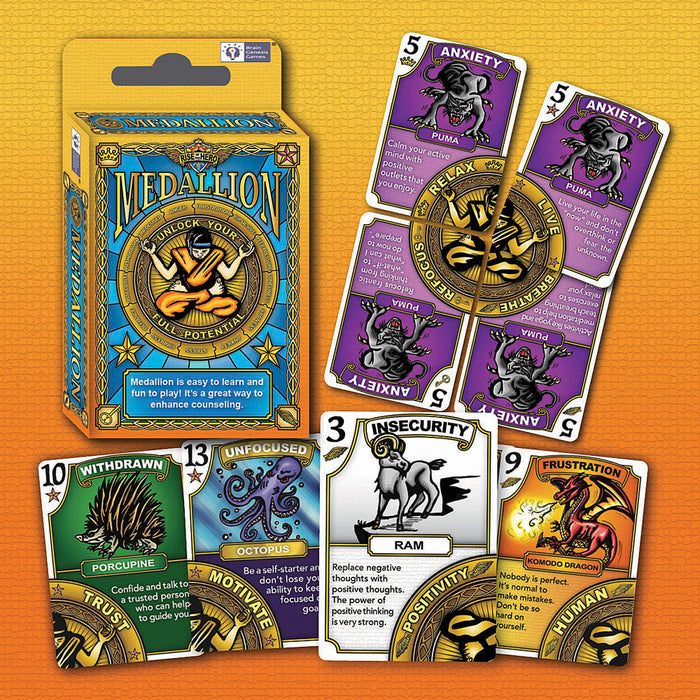 Medallion: Unlock Your Full Potential
Medallion is an engaging card game created by a School Psychologist, as a twist on the popular game "Go-Fish". 
 Players interact to complete 4-card sets as they discuss emotions and positive thinking, creating a fun and safe space to talk about feelings.
 Each 4-card set fits together to make a Medallion! Make the most medallions to win!
 Card sets include emotions/behaviors children & teens commonly struggle with such as Peer Pressure, Sadness, Frustration, Loneliness, Impulsive, Insecurity, Defiance, Anger, Anxiety, and Stress.
 An adult moderator, such as a Parent, Teacher, Counselor or Speech Therapist encourages discussions.
 Targets:
 Social skills
Confidence building
Exploring emotions
Emotional vocabulary
Positive thinking & behavior
 Game includes:
 52 playing cards 
1 Rule Card and 1 "Variations" Card
 Suitable for ages 8 and up
 Dimensions: Box: 4" x 3" x 0.75" Cards: 3.5" x 2.5"
 You may also like: Emo, Think It Through (2nd Edition), Think It Through Jr., Go-Moji, School Paces, Rise of the Hero