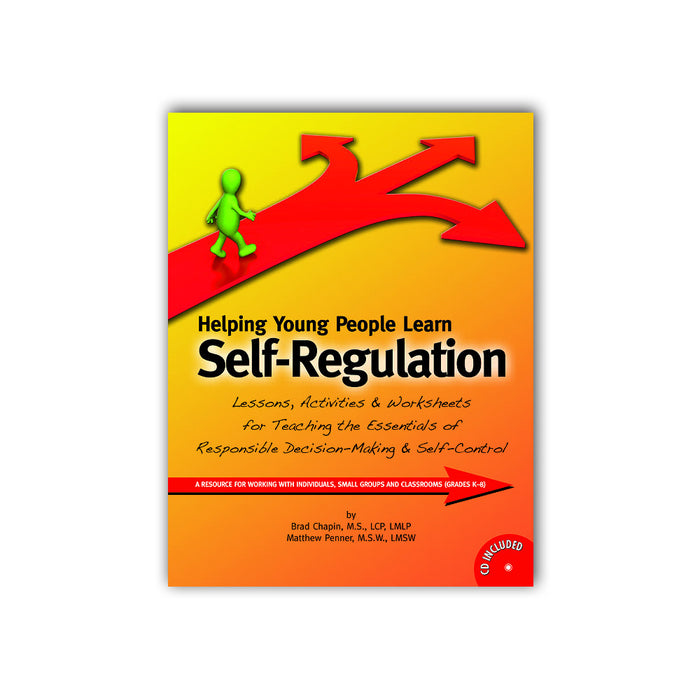 Helping Young People Learn Self Regulation Book
Creative, fresh, and engaging strategies help create change quickly

Self-regulation includes a universal set of skills necessary for academic success, emotional control and healthy social interaction
Address children's anger problems, academic performance challenges, anxieties, school safety issues, self-esteem, social skills and much more!

Includes CD with reproducible worksheets

Grades: K-8.
Written by Brad Chapin, MS LCP,LMLP and Matthew Penner, M.S.W, LMSW, the creator of the popular web-based Challenge Software program for children, comes a resource that provides a solid, yet flexible foundation for intervention. The individual strategies are presented in a simple step-by-step process using lessons, activities and reproducible worksheets. These strategies can be used individually for a quick intervention with children. They can also be used to create dozens of unique curricula, tailor-made to target specific problem areas for small groups or classrooms. As the term "self-regulation" suggests, this approach focuses on teaching children how to regulate their own emotions and behaviors. The authors have split the self-regulation training process into three functional area: physical, emotional, and cognitive. Using strategies based soundly upon the evidence base of cognitive-behavioral psychology, this resource will help you move children progressively through skill areas in each of these three domains.This resource was designed to help professionals increase the long-term impact of their work with children. Includes a CD with reproducible worksheets. 110 pages.