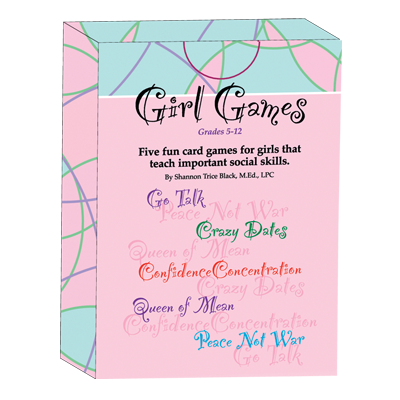 Girl Games
Five Fun Card Games for Girls That Teach Important Social Skills
by Shannon Trice Black, MEd, LPC
Five games in one box!
Girl Games includes five decks of cards that are based on traditional card games. Each deck promotes self-esteem, teaches decision-making skills, and helps prevent bullying and relational aggression among girls. Games include:
Queen of Mean

(based on

Old Maid

)

Crazy Dates

(based on

Crazy

Eights

)

Peace Not War

(based on

War

)

Go Talk

(based on

Go

Fish

)

Confidence Concentration

(based on

Memory

)
Cards feature thought-provoking questions that help facilitate group discussions about topics that are important to adolescents. Issues covered include gossip, respect, body image, achievements, communication, safety, and many more. For 2 or more players.
Includes Instructions and 5 Decks of Cards (24 to 26 cards per deck)