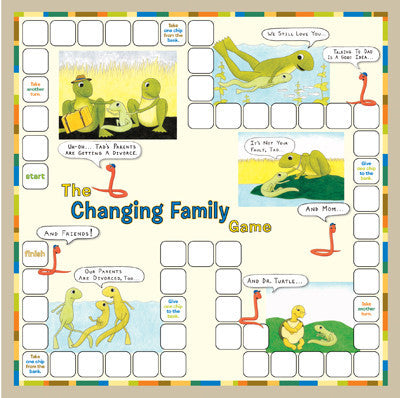 The Changing Family Board Game*
The Changing Family Game*
by Berthold Berg, Ph.D. 
 
This engaging board game gives therapists a convenient and very focused way to address the needs of children affected by divorce. Using principles of cognitive restructuring and behavioral rehearsal, it helps children develop more realistic and adaptive attitudes about their parents' divorce. Specifically, it addresses the following nonadaptive attitudes: Peer Ridicule and Avoidance, Paternal Blame, Maternal Blame, Fear of Abandonment, and Hope of Reconciliation. And it introduces children to new behavioral options that can help them adjust to the single parent family and visitation.
Two brief inventories (included) help you determine what kind of problems the child or family is experiencing. You can then select game cards that address these problems. Recommended for 2-6 players.
For Ages 8 and Up
Also available:
The Changing Family Workbook*
The exercises in this workbook help children cope with parental separation and divorce. They are designed to correct faulty beliefs about blame, peer avoidance, hopes of reconciliation, and fear of abandonment. Requires a 5th-grade reading level.