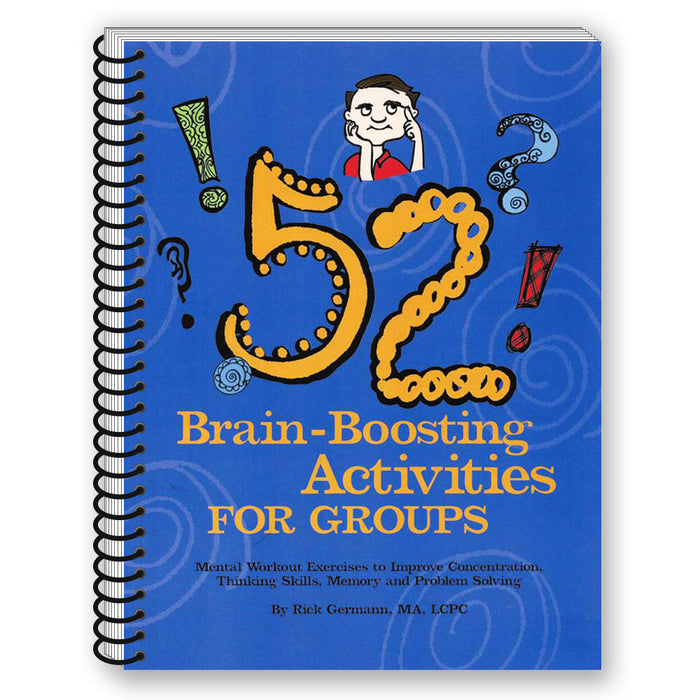 52 Brain Boosting Activities for Groups Book
Fun and engaging mental exercises that use cognitive skills
Reproducible activities with step-by-step instructions
Activities are rated as easy, moderate, or challenging
May be used in conjunction with the Brain Booster Cards
Grades: 9 and up
52 Brain Boosting Activities for Groups by Rick Germann, MA, LCPC. Intended for grades 9 and up. Challenge teens with these fun and engaging mental workout exercises that use cognitive skills to: improve memory, decision-making, problem-solving, concentration, thinking skills, and creativity. Each activity is reproducible with step-by-step instructions for leading the activity, processing suggestions, and tips to adjust the activities to the functioning level of the participants. Activities are rated easy, moderate, or challenging. This book is designed to be user-friendly and applicable to a variety of settings. Spiral-bound, 54 pages.
Brain Boosters Cards: Intended for grades 9 and up. For 3-16 players. This deck is sure to arouse memory, creativity, and imagination. It will also enhance decision-making and problem-solving skills...and it's fun! Includes 72 cards plus instructions.
This book is also included in the 52 Brain Boosting Activities For Groups set. Click here to purchase the book and cards as a set.