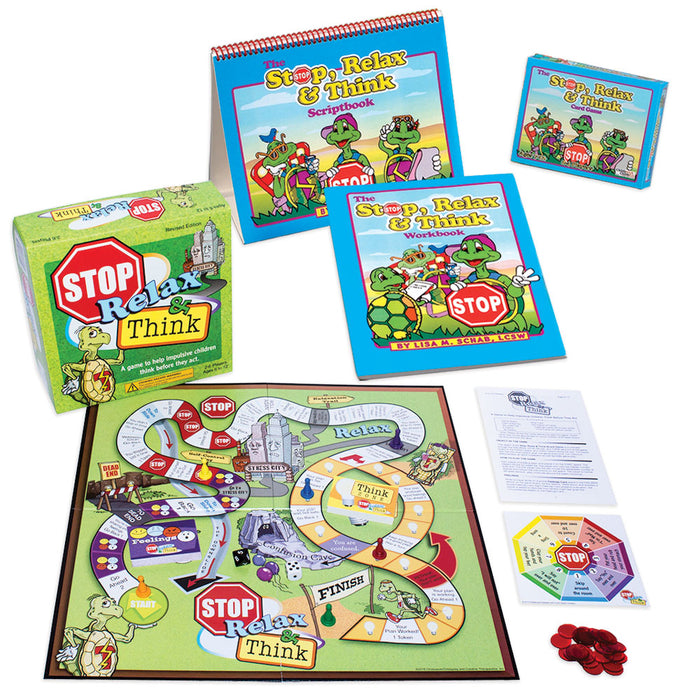 The Stop, Relax, & Think Collection
Great tool for working with children with behavioral problems
Features a variety of multimedia activities to engage children 
Includes a board game, card game, workbook, script book, and more
Ages: 6-12
If you work with children who have behavioral problems, then you must own this collection. You'll find dozens of activities to engage hard-to-reach children and those with behavior problems. Activities to help them in individual or group counseling, the classroom or the home.
Collection includes one each of the following:
Stop, Relax & Think Board Game: In this ever-popular board game, active, impulsive children learn motor control, relaxation skills, how to express their feelings, and how to problem-solve. The manual includes information on how the game can be used both as a diagnostic and a treatment tool, and how behaviors learned in the game can be generalized for the home or classroom. 
Stop, Relax & Think Card Game: In this entertaining card game, players learn the value of patience and cooperating with others to win. Designed for impulsive or inattentive children, the game contains three suits of cards and players must try to collect twelve cards to complete each suit. 
Stop, Relax & Think Workbook: This workbook is designed to help children in general - and impulsive children especially - learn the cognitive, physical, and emotional skills they need to determine and use appropriate behavior across a variety of settings. Includes reproducible handouts.
Stop, Relax & Think Scriptbook: Teaching children to think before they act is an important part of working with active, impulsive children. With this book, children can practice what to say and how to act in eight different scenarios common to children with behavioral problems. It gives them a fun and educational forum in which they can enact familiar scenarios and effect positive outcomes.