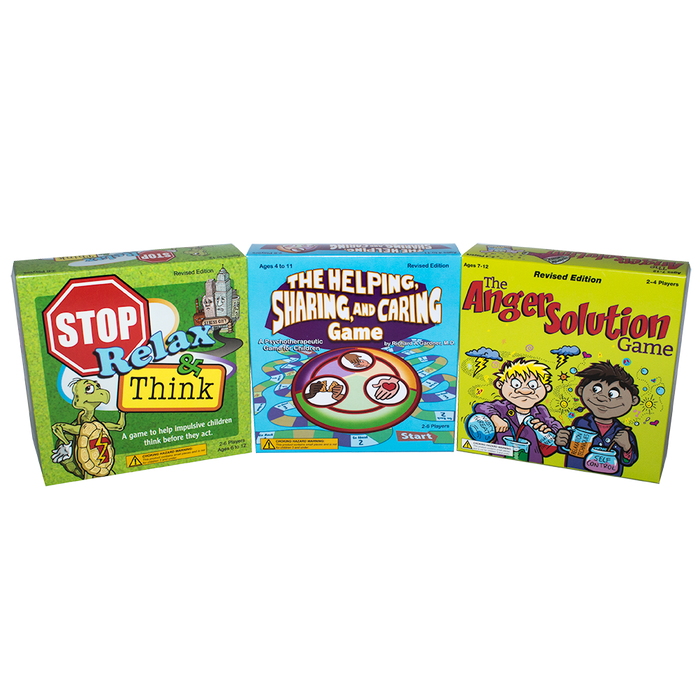 BEST SELLING CHILDSWORK/CHILDSPLAY THERAPY GAMES
Build your collection of therapeutic board games with these classic games!

Can be used by teachers, parents, and paraprofessionals

Includes The Helping, Sharing, and Caring Game, The Stop, Relax & Think Board Game, and The Anger Solution Game

Ages: 4-12
If you want to build your collection of therapeutic board games, then this is where you want to start. Year after year these are three of our most popular games, and together they can be used with the majority of children referred for counseling. Each game can also be used by teachers, parents, and paraprofessionals.
The Helping Sharing and Caring Game- Revised
By Richard A. Gardner, M.D., author of The Talking, Feeling, and Doing Game. This fun board game helps children develop critical communication and social skills. The purpose of this game is to provide an enjoyable game in the context of which important issues are introduced. A wide variety of issues are focused on: self-esteem, manners, safety, ethics, values, health, consideration for others, interpersonal relations, the value of learning, sympathy, empathy, and competence. The responses to the cards impart information and facilitate communication, both of which can enhance feelings of self-worth and improve interpersonal relationships. Includes game board, 288 discussion cards, spinner, 6 pawns, chips, and 2 dice. Recommended for children 4-12.
Stop, Relax & Think Board Game - Revised
A game to help impulsive children think before they act. In this ever-popular board game, active, impulsive children learn motor control, relaxation skills, how to express their feelings, and how to problem-solve. The manual includes information on how the game can be used both as a diagnostic and a treatment tool, and how behaviors learned in the game can be generalized for the home or classroom. The object of the game is to proceed through the Feelings, Stop, Relax, and Think sections of the game board to Finish, collecting chips along the way. The player with the most chips when the game ends wins. Recommended for children ages 6-12.
The Anger Solution Game - Revised
This game was designed to teach children constructive and effective ways to resolve their anger. The cards allow them the opportunity to choose alternatives that can turn anger-inciting situations into more positive encounters. Through repetitive game play, they will learn how to use the new solutions in real life to avoid negative reactions. The object of the game is for players to resolve as many anger-inciting situations as they can within a 20- to 30-minute period. Players get chips for resolving anger situations, and the player with the most chips wins the game. The game is designed to be played in counseling sessions, the classroom, or even the home. For 2-4 players. Recommended for ages 7-12.