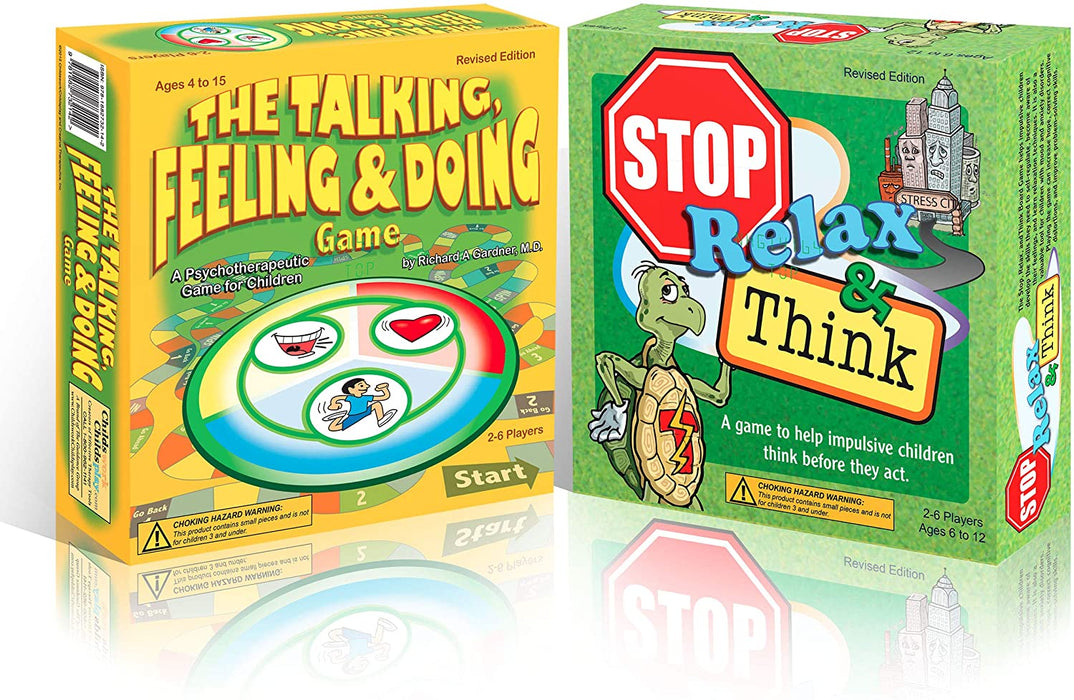 The Talking, Feeling, Doing & Stop, Relax, Think Game Bundle
STOP, RELAX, THINK Board Game- Ages 6-12. By Becky Bridges, C.S.W., A.C.P. A game to help impulsive children think before they act. In this ever-popular board game, active, impulsive children learn motor control, relaxation skills, how to express their feelings, and how to problem-solve. The manual includes information on how the game can be used both as a diagnostic and a treatment tool, and how behaviors learned in the game can be generalized for the home or classroom. The object of the game is to proceed through the Feelings, Stop, Relax, and Think sections of the game board to Finish, collecting chips along the way. The player with the most chips when the game ends wins. Designed for counselors, social workers, therapists, and other helping professionals.
THE TALKING, FEELING, DOING Board Game- A psychotherapeutic game for children. The first published therapeutic game by Richard A. Gardener, M.D., is still one of the most popular counseling tools used with children in therapeutic settings. A child's responses while playing the game will reveal the psychological issues that are most important to him or her. Three types of cards offer prompts that will engage the child and, through their responses, reveal directions for therapeutic intervention. The engaging game format utilizing token reinforcement enhances the child's interest and elicits spontaneous revelations. The information gained provides diagnostically meaningful insights into the child's psychodynamics, and is of therapeutic value because each response can serve as a catalyst for therapeutic interchanges. The game is of value in group psychotherapy, in the treatment of learning-disabled children because many of the cards are particularly applicable to these children, and with children who can reveal themselves more freely but who may also need a respite from more anxiety-provoking therapeutic endeavors.