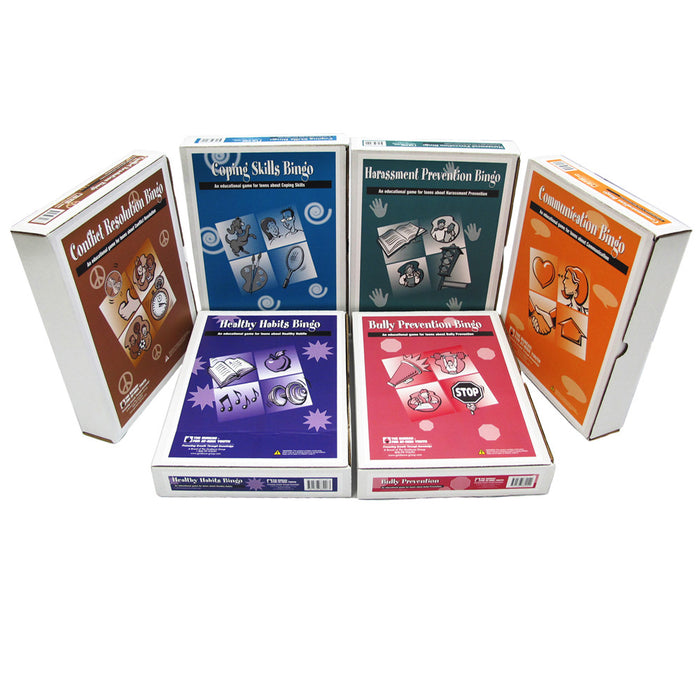 Middle School Bingo Games Series Set of 6
Generate lively discussions among teens and pre-teens!

Each game includes game cards, calling cards, chips, and instructions

For 2-16 players

Ages: 10-14
This exciting series uses a format all kids know and love to address some of the more pressing and serious issues in their lives. These games provide ready-made prompts to generate lively discussion that will get teens and pre-teens thinking about their attitudes and behaviors. In addition, key skills are highlighted that enable them to more successfully cope with the stresses in their lives.
Set includes one each of the following Bingo Games:
Bully Prevention Bingo Game
This fun and interactive game will help teens identify the behaviors that constitute bullying and help them develop the attitudes and skills to prevent it. 
Communication Bingo Game
This game will help Increase communication skills that help teens succeed in school and beyond. Students learn about active listening, the importance of "I" messages, and presenting information in a way that will be accepted. 

Coping Skills Bingo Game
Teens are especially vulnerable to stress and anxiety. Help teens address and handle the stresses in their lives by learning easy-to-implement coping skills. 
Conflict Resolution Bingo Game
Create a classroom that is more conducive to learning when students learn conflict resolution skills. Empower students to resolve conflicts both in and out of school with the skills they will learn playing this fun-filled game. 
Harassment Prevention Bingo Game
Stop harassment before it starts by helping teens identify the many faces of this unwanted behavior. From offhand comments to out-and-out physical intimidation, this game will help teens give voice to their concerns.
Healthy Habits Bingo Game
From good hygiene to opting for a drug and alcohol-free lifestyle, this engaging and familiar game will make it easy for teens to identify healthy behaviors.