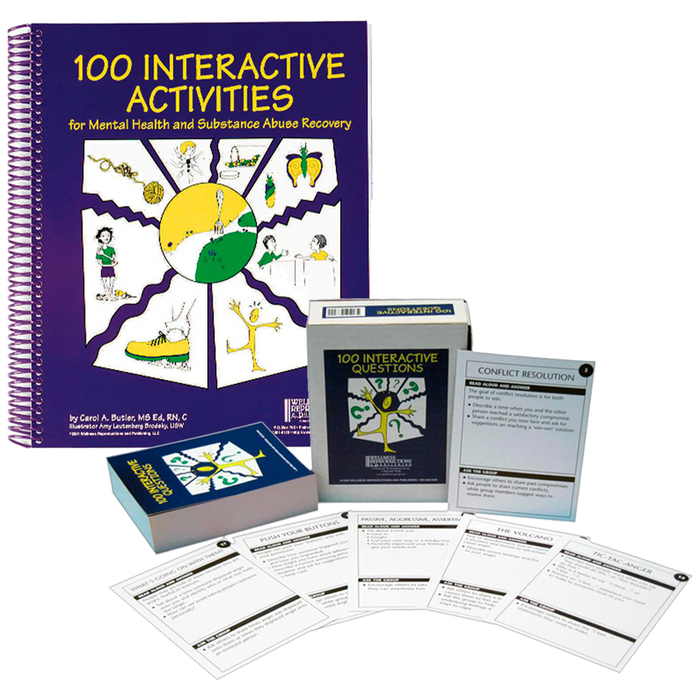 100 Interactive Activities for Mental Health and Substance Abuse Recovery Set
Learn self-sufficient survival skills in a group setting

Topics include Anger Management, Assertion, Stress, Self-Esteem, Sobriety, Problem Solving, and more

Interactive cards work in conjunction with book to help participants think and communicate

Includes 100 Interactive Activities for Health and Substance Abuse Recovery book and cards.


Ages: 8 and up
100 Interactive Activities for Mental Health and Substance Abuse Recovery Book by Carol A. Butler, MS Ed, RN, C. Innovative techniques target different groups and ages, and are presented using: worksheets, art, games, feedback, visualization, poetry, and more. Groups work through Anger Management, Assertion, Stress, Self- Esteem, Sobriety, Problem Solving, and much more to learn self-sufficient survival skills. Book is 292 pages, soft cover, and spiral bound for easy reproduction. Intended for ages 8 and up.
100 Interactive Question Cards
. These cards supply a succinct therapeutic concept from the book with a related question to help participants think, communicate, and interact on important and relevant topics. Each card also has an optional interactive component, to be used at the leader's discretion. Intended for ages 13 and up.