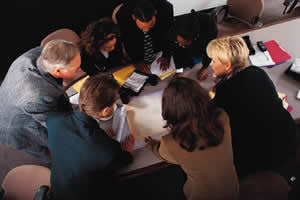 The School Counselor as a Collaborative Leader
School counselors
will wear many professional hats throughout each school year.  A very important role is engendering
collaboration
between a child's parents/guardians and the staff of the school.  Creating a
collaborative
environment is vital to building student success within your school and critical in regards to establishing yourself as a
school counselor
.
Working With Teachers
Successful school counselors are able to build effective relationships with the school's teaching staff.  Always remember to include teachers within a discussion when the outcome will affect their classroom.  If you don't want to be viewed as an outsider in their classroom, don't act like one.  You may not always agree with the teacher but they should be respected as a professional in the same manner you wish to be.
Working With Parents
How many times do we hear our co-workers say, "They are uninvolved parents?"  It may be possible those parents are saying, "They are uninvolved school counselors!"  Don't be bashful when it comes to establishing and maintaining relationships with the parents of your students.  They can be your greatest resource when working with your caseload.  Take the lead and initiate conversations about minor issues.  Perhaps, even make a phone call home or send an e-mail complimenting their child.  Identify yourself as the "go to" person for many of their questions and explain how you can help them communicate with their children and the staff of the school.
Working With Administrators
Work with your building administrators to clearly identify when and how you would like to be contacted.   It will be often that you will be involved in meetings with administrators regarding negative topics.  Your role is to be a collaborative member of the school staff, but you are also a student advocate.  Pick and choose your battles as needed, but be sure to navigate your path carefully.  Going too far can be detrimental to both yourself and the student.
Working With Athletic Coaches
When it comes to student-athletes, coaches should be viewed as a valuable stakeholder in that student's future.  This is especially true at the high school level.  Coaches can be the influential force needed to finally "get through" to a student and can provide valuable assistance during the college search process. The daily routine of a school counselor can be as hectic as they come.  It is important that our professional routine does not limit our ability to develop and maintain collaborative relationships with other people who play essential roles in developing student success.  The more you keep others involved, the more you will be kept involved by others!