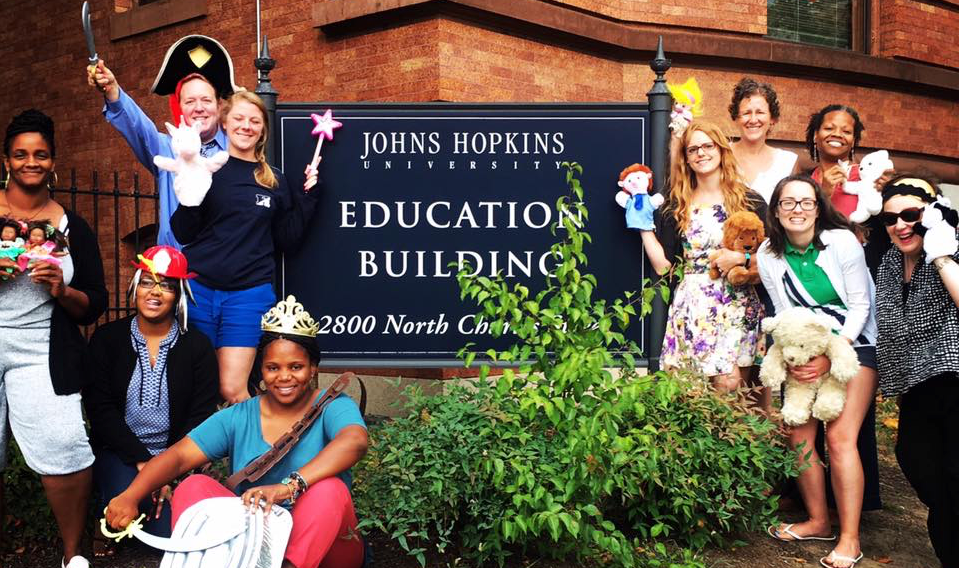 The River Moves by Rosalind Heiko, Ph.D., ISST, CST-T, NCSP
Immerse yourself in a proven child play therapy techniques. Begin to master new ways to communicate the language of those theories and techniques. Dare to experience learning outdoors, in the classroom, through lecture, discussion, video presentations, and thorough grounding in methods and rationale. Challenge yourself in an experiential group setting to fully engage with other therapists in playful, innovative ways while being guided with respect and a steady hand by the instructor.
If I had written the ad copy for signing up for Johns Hopkins University's Education Department course, "Introduction to Play Therapy with Children", with Dr. Eric J. Green, that is how I would have written up the description. The major goal of this unique, condensed course was "to facilitate students' knowledge, dispositions and skills to counsel children through play therapy and other major theoretical applications", according to the catalogue for the Summer Seminar Graduate Course listing.
This was a 3 credit graduate course, given the last 11 years in July at Johns Hopkins Homewood building for an intensive six days in a row. Graded requirements included daily journal critical reflection writing, a video and critique of the therapist's work with a client due after the course itself ended, and a written examination. Course completion constitutes 67 of the 150 total play therapy-specific hours needed for RPT certification (http://c.ymcdn.com/sites/www.a4pt.org/resource/resmgr/RPT_and_RPT-S_Credentials RPTS_Guide_December_2015.pdf). A number of us stayed in a hospitable hotel located across from the main campus, about 11 blocks from the JHU Education building where the course was held (http://www.colonnadebaltimore.com). The course for next year will be advertised soon at this link: http://education.jhu.edu/summerseminars/.
In the past, I was one of the first board members of the newly organized North Carolina APT chapter; our respective groups in play therapy and sandplay in NC have a rich history of collaboration. A long-term goal of mine has been to attain certification in play therapy. So off to Baltimore I went, two weeks ago - in one of the hottest July months I can remember!
My week at JHU was delightful. The graduate students in counseling and the therapists going for further training, as I did, were enthusiastic, warm, and diverse in background and knowledge. We covered basic developmental considerations of children's growth, an overview of theory and concepts of the meaning and types of play therapy and themes, personality characteristics of the play therapist, setting up a play therapy room, structuring sessions, the main tenets and intensive practice of Client-Centered Play Therapy techniques, limit setting in the therapeutic setting, collateral parent work, termination goals, ethical concerns, multicultural considerations, and work with parents, as well as Jungian Play Therapy and Sandplay. Three books were required reading: Giordano, M., Landreth, G. & Jones, L. (2005). A practical handbook for building the play therapy relationship. Lanham, MD: Jason Aronson; Green, E. (2014). The handbook of Jungian play therapy. Baltimore, MD: Johns Hopkins Press; and
Landreth, G. (2012). Play therapy: The art of the relationship (3rd ed.). New York, NY: Routledge.
I remember the week as one of laughter and engagement. At the end of the 6 day training, I taught Sandplay to the group for an hour's lecture and discussion time, with great appreciation to Dr. Green for such a lovely opportunity to share. We held each other in a circle, time and time again: in a trust exercise, led by the fabulously gifted therapist Kendra Benesch for a guest lecture, in class, in our hearts. What fun learning can be!
 "When you do things from your soul, you feel a river moving in you, a joy."  
-Rumi
****
Rosalind Heiko, Ph.D., ISST, CST-T, NCSP, is a psychologist and Sandplay teacher who trains therapists working with children and families internationally and nationally. Her chapter "Tempered in the fire: Self-care & mindfulness in preventing clinical burn-out" can be found in Counseling families: Play-based treatment by Rowman & Littlefield; and her forthcoming book The heroine's journey in Sandplay: A therapist's guide for girls, will be published by Rowman & Littlefield in 2016. She has published in the Journal of Sandplay Therapy, is the founder of NC Sandplay Training and a past Board of Trustees Member of the Sandplay Therapists of America.  She is the Director of Pediatric & Family Psychology, P.A., in Cary, NC.  She has worked with children, adolescents and families professionally since 1983.  Dr. Roz is an Approved Teaching Consultant in Clinical Hypnosis (ASCH); is Level II certified in EMDR, and holds national certification in School Psychology (NCSP).  She believes wholeheartedly in the power of laughter and the delight that Sandplay brings to her clients and trainees.  You can reach her through her website:  www.drheiko.com