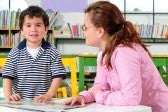 Thank A Teacher Who Made A Difference In Your Life
The "You Made A Difference Campaign" is a national campaign centered on thanking teachers.
Join in to say thanks!
Launched only recently, this wonderful campaign has been featured in multiple news outlets! Help spread the word about the importance of thanking teachers. You can participate by "liking" the campaign on Facebook, posting a message of thanks on the Facebook wall, creating a short video giving thanks to a teacher who has inspired you, and encouraging others to do so! Some very well-known athletes, personalities, and award-winners have already creating videos.
Now it's your turn!
Go there now: http://www.facebook.com/YouMadeADifference