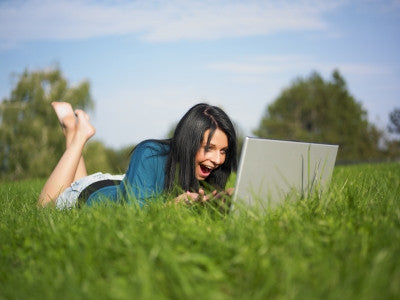 Preventing Cyberbullying through Both Monitoring and Letting It Go
In the digital age, parents are increasingly concerned about the influence of social media websites like Facebook on their developing adolescents. There are two camps here. In one, children are getting accounts at younger and younger ages. In the other, parents restrict access completely. The struggle over the "right" way to manage a child's Facebook and social media world is still a mystery to parents. My kids are only 4 and 1. As such the only experience I have is as an observer, though members of my family provide insight into both ways of thinking. A cousin of mine has a 10-year-old son who has been on Facebook for at least a year. Though I know his mom monitors his postings, nine-years-old seems terribly young to even start thinking about the issues of social media. Although, as shocked as I was about this, I later learned that the former "age limit" of 13+ on the site, has since been replaced by a policy to "provide your age." Facebook seems to recognize that younger and younger people are joining with false birthdays. So instead they launched a
Family Safety Center
to compensate. On the other hand, my almost-14-year-old nephew is about to start high school in the fall without a Facebook account. My sister-in-law, at this point, still thinks he's too young to manage this and/or doesn't want to deal with the added pressure of monitoring it herself. In fact, her own Facebook profile is ripe with obscurities and vague references and devoid of family photos in an effort to stay "privately public."
So, What's the Right Course?
As educators we clearly have very little control over what parents do or do not let their children do online. However, we are also seen as a source of information and advice in regards to the "right" choices at any age. And though hard and fast rules are difficult to come by,
new research
from the Kansas State University may provide some help. There are a few key issues surrounding the use of Facebook by pre-teens and teens. The first, protecting them from online predators, is certainly one many parents know. Second to that, cyberbullying is another issue that has gained more and more traction in the press over the past few years. It is the presence of these two threats that has led people like my sister-in-law to restrict Facebook for her teenage son. However, the lead author of this study, emeritus professor of family studies and human services, Chuck Smith, also contends that involvement with entities like Facebook may have positive elements as well. He explains that though children need to be monitored, parents need to also allow them to make their own mistakes regarding the internet social scene as they do the face-to-face social scene.
The younger generation is very much an online generation. We have to be realistic and teach them about the danger and responsibility of posting online and considering what they might say and how they might react. Parents who are overly restrictive might lose their opportunity.
This doesn't make my cousin's move to allow Facebook to her 9-year-old more "right" however, as the choice to allow children access to social media comes with extreme responsibility on the part of the parent in order to safeguard their children from predators of any variety, bullies included. Smith explains that a diligent parent must assume the role of "invasive force" when it comes to social media, forcing children to use family computers in common areas and reading all posts and messages on a regular basis. This is scary for a lot of parents, clearly, especially single parents who don't have the benefit of a good cop/bad cop approach. However, as Smith explains,
The impact on relationships could be children regarding parents as too intrusive in their personal lives. Though as long as the children are living in the home, parents have every right to be vigilant.
Clearly, responsible internet and social media use is a delicate walk for parents, yet one that must be completed like any other aspect of raising kids and teens. It is this commitment to monitoring and open dialogue, despite protests about "privacy" that represents our greatest weapons against cyberbullying and other dangerous internet actions.
What Will You Do?
Again, as educators all we can do is advise children and parents about responsible internet use and limit access to social media sites within school grounds. However, that doesn't mean we need to stay quiet. By informing ourselves about the latest research and theories regarding internet use among young people we are best positioned to intelligently address these issues when they crop up and contribute to the dialogue about it.