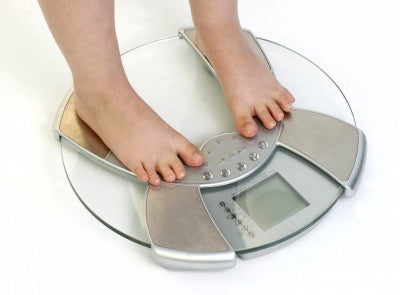 Kentucky to Require Obesity Screenings in School, but to What Effect
[caption id="attachment_1075" align="alignleft" width="300" caption="Image courtesy of Clare Bloomfield"]
[/caption] Last week, the state Board of Education in Kentucky voted to begin routine body mass index (BMI) screenings of all students in their state's K-12 schools. The proposal will require schools to measure and record a child's BMI for each year from pre-k through fifth grade and then once again in middle and high school. The recorded numbers will then go onto the student's cumulative health record. At this time, there are no plans for an opt-out provision for parents concerned about the methods and risks of school health officials calculating BMI.
Tackling the Childhood Obesity Epidemic
Last month, I wrote about another state's efforts to
attack childhood obesity
in a controversial way. The state of Georgia, which is ranked #2 in the nation for obese children, began a billboard campaign to raise awareness of the problem in their midst. Kentucky, which ranks third in the nation with 21% of children aged 10-17 considered obese, has mounted a less in-your-face, but equally tricky plan to combat this national health issue. Dr. Amber Pendelton from the University of Louisville Pediatrics department recently explained the crux of the issue with childhood obesity to the
Associated Press
. She said, "We know that childhood obesity can lead to various additional health risks, such as Type 2 diabetes, high blood pressure, coronary heart disease" among others. She continued to assert that the state and the nation need to implement more early intervention programs which are "crucial in prevention of these complications." And it's hard to argue with that logic. In addition to education and a greater implementation of physical activity and nutritional counseling, taking the time to identify individual children at risk has the potential to throw up an early flag and save a life. However, the issue of BMI screenings is far more complicated than that.
BMI Screening: Potential Harms
While Kentucky is far from the only state to require BMI screenings of its pupils (currently the practice exists in 21 other states) its recent entrance into the field also puts the spotlight onto the potential harms that BMI screenings and so-called "health report cards" can have on at-risk children and their parents.
A comprehensive 2006 study
which appeared in the journal
Health Education Research
began to address these issues when the practice of BMI screening was present in only four states. Their findings shed light on the very real problem that addressing medical issues in school can present. The article's authors, Joanne Ikeda, Patricia Crawford, and Gail Woodward-Lopez, began by conducting a study of both the United States and the United Kingdom in the light of the 1998 declaration by the U.S. government of childhood obesity as an "epidemic" in this country. Their study focused on two main components of these screenings: information gathering and prevention. They found that the information gleaned from systematic BMI indexing universally helped in the allocation of funds and efforts to combat obesity. In states such as California, where BMI calculation has been long-established, the individual district numbers help U.S. Representatives advocate for federal funding for obesity prevention. However, the individual effects of BMI screening were not so universally positive. As the authors found, the personnel in the school responsible for the screening, the methods they used to calculate BMI and the follow-through they provided after sending home health report cards all impacted the ultimate effect of BMI screening programs. Parents' reactions to the news of an overweight child varied from denial to extreme dieting measures that may not be age-appropriate. As a result, the authors came up with the following list of potential harms associated with in-school BMI screenings:
Parental Promotion of Dieting (i.e. caloric-restriction diets that fail to provide proper nutrition to growing bodies)
Increased Stigmatization of Obesity
Increased Body Dissatisfaction
Disordered Eating
The ultimate results of this study conclude that, "schools need to make sure that there are treatment programs available to help these children. Whether or not BMI screening takes place, schools need to have an inclusive and respectful school climate where size discrimination is not tolerated. To avoid doing harm, efforts to improve the health of students should enhance physical, psychological and social well-being."
Kentucky's Future
Given the information from the 2006 study, the relative success of the new BMI screening program in Kentucky will largely depend on the amount of resources schools are willing to offer the students labeled as "obese." This will include staff training as well as additional funding for family education and programs aimed at not just identifying this problem, but fixing it. Yet, in a K-12 climate that is increasingly relying on
cuts
to move from one school year to the next, it's not too far out to be skeptical about the ability for Kentucky, or any state, to accurately follow through. What do you think?