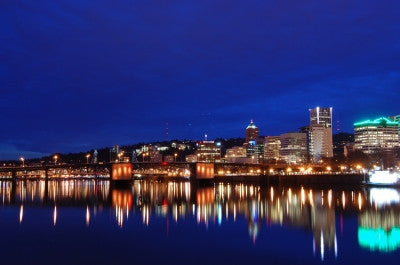 A Rising Number of Oregon Students Need Special Education Accommodations, Report Finds
[caption id="attachment_1354" align="alignleft" width="300"]
Photo of the Portland skyline courtesy of Chuck Felix[/caption] A Rising Number of Oregon Students Need Special Education Accommodations, Report Finds: This week, the state of
Oregon's Department of Education
released two reports on the current position of the state's 84,707 students in special education. The first report focused on the number of students receiving
special education
accommodations while the second report looked at the ability of individual districts to meets those needs. The results show that a growing number of students are requiring special education services while the success of those services is well below milestones set by state and national standards.
Looking at the Numbers
All told, 13.3% of students in the state of Oregon are classified as needing special education services. This comes out to the aforementioned figure of 84,707 students. This number is a sharp rise from even a few years ago. In the 2008-2009 school year 81,980 students were receiving
special education services
. That's an additional 2,727 students who are now in need of resources. That 3.3% growth rate is far above the 2.6% population increase in the state over that same time. However, looking more closely at these figures reveals that the students who qualify for these services are exactly who one would expect: namely, autistic children. With the startling figure of
1 in 88 children
who are currently diagnosed with autism still fresh in our minds, this should come as no shock. In the same time period, the number of students with an autism spectrum disorder jumped from 7,579 to 8,694 this accounts for 1,115 of the 2,727. Additionally, students diagnosed with a so-called "intellectual disability" actually dropped from 4,080 to 3,878.
Interpreting the Numbers
Ultimately, the increase in autistic diagnosis as well as the overall percentage of children requiring special needs accommodations should come at no shock. What is far more important, however, is the results of those programs in terms of the students' overall success. This is where the numbers from the Oregon reports become a bit more disturbing. The state measured individual districts' success in each of 15 target areas as they relate to special education students. These areas included graduation rates, dropout rates, the percentage of time students are spending in mainstream classrooms, as well as the success of Oregon's special needs students in the 12 months following high school graduation. Among the numbers presented in this second study, the most troubling was that the Portland area especially fell far below the 65% graduation rate goal. Instead, of the six school districts that make up the Portland-metro area, all were below the 65% goal. Portland itself only saw 29% of their special needs students graduate in four years with a regular diploma. Similarly, the southern coastal city of Coos Bay wasn't much better with a graduation rate of only 33% among special needs students with regular diplomas. While many disability advocates and special needs instructors from the state and the affected districts point to the differing needs of these students and the fact that they are making some sort of progress. The following quote given to the
Associated Press
from the Coos Bay director of special programs, Lisa DeSalvio, should raise at least some concern about what sort of future we can expect for our special needs children: "I just went through a McDonald's the other day and there was one of my ex-students at McDonald's; there's another ex-student that pumps gas," DeSalvio said. "They're not going into high-paying jobs, but they're working."